So when I lived in Inch, Ireland (between Gorey and Arklow), I worked on this organic farm/ equestrian centre. The only things I ate during the week were the vegetables that I harvested and some meat from other nearby folks. Once a week I'd take an hour walk to a gas station and buy one candy bar (usually a Moro or a Double Decker)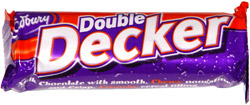 I would also buy one soda (always a Club Orange) It's orange soda meets orange juice and it is the best soda in the history of mankind.
Anyway, all this to say that a if you eat a candy bar and drink a soda once a week for 4 months, it is the most amazing treat you will ever experience. Especially after an hours walk.
I want to move back to Ireland. Have I mentioned this?

Above is a photo of me walking to said gas station in Inch, Ireland. (The only place where an inch is a mile!) Yes the road signs are in english and Gaelic. Amazing.